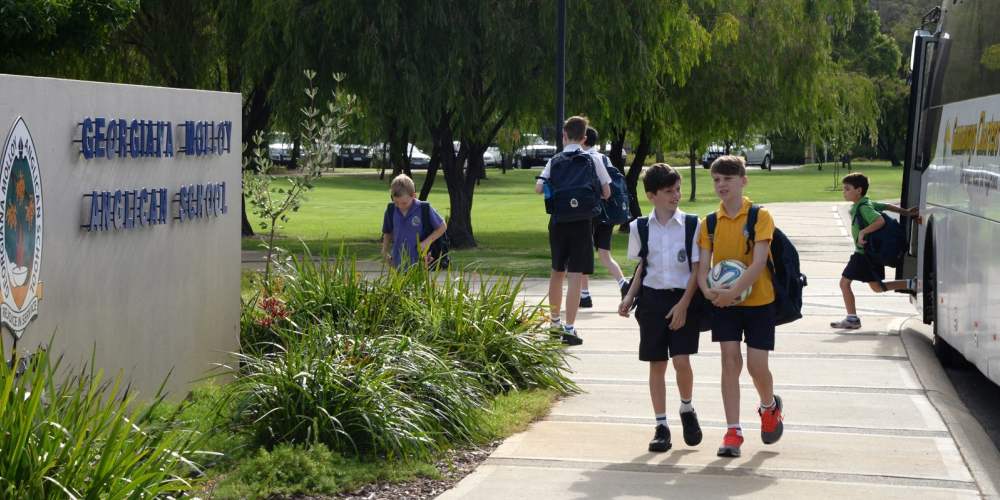 Bus
Services
Access to and from Georgiana Molloy Anglican School is provided by a number of bus companies. The school is well serviced in relation to public transport with students traveling from as far afield as Margaret River, Augusta, Nannup, Donnybrook and Bunbury.
---
Private Bus Service
GMAS operates a private chartered bus service through Gannaways Charters and Tours, connecting students in areas with limited public transport to the school campus.
We currently operate four routes:
Fisherman's Road Bus
Donnybrook & Boyanup
Bunbury
Dalyellup
Travel is on private, air-conditioned coaches. The cost per term is $110 per student. For more information or to book your child onto a bus service, please contact Registrar Victoria Kearns.
Public Transport Authority (Green Buses)
The Public Transport Authority (PTA) run numerous services that cover the suburbs and communities along Geographe Bay through to Dunsborough and the wider Cape region. For specific route information, timetables and maps please visit the PTA website and select the Regional Town Bus Services under the Our Services toolbar.
Useful Contacts
Transperth:
Tel: 13 62 13
Busselton Depot:
Tel: (08) 9753 7500. After hours, call (08) 9333 4510.

School Bus Service (Orange Buses)
The Western Australian Government operate a number of school bus services to ensure regional students are able to attend school regularly.
Buses currently run between GMAS and Yallingup, Quedjinup, Margaret River and Nannup.
Parents are required to register their child online through the School Bus Service website.
Useful Contacts
Information
Tel: (08) 9326 2485 (GMAS only)
Email: greatsouthwest@pta.wa.gov.au
Complaints
Alex Dunn: (08) 9326 2693
Email: alexander.dunn@pta.wa.gov.au
SmartRider Cards
Students must be in possession of a SmartRider card to access student fares for bus travel to and from school.
To apply for a SmartRider card, please follow the below process:

Primary School Students
SmartRider cards may be ordered online from Transperth. Cards will be sent to the School and delivered to students through their Class Teacher.

Secondary School Students
All Year 7 students will be provided with SmartRider cards as part of their induction into Middle School. For new students in Years 8-12 and Year 7 students who arrive during the school year, SmartRider cards can be ordered through Quickcliq and collected at Student Services.
Replacement Cards
Replacement cards can be purchased on Quickcliq for $5.00 and collected at Student Services.
For further information please contact Student Services.