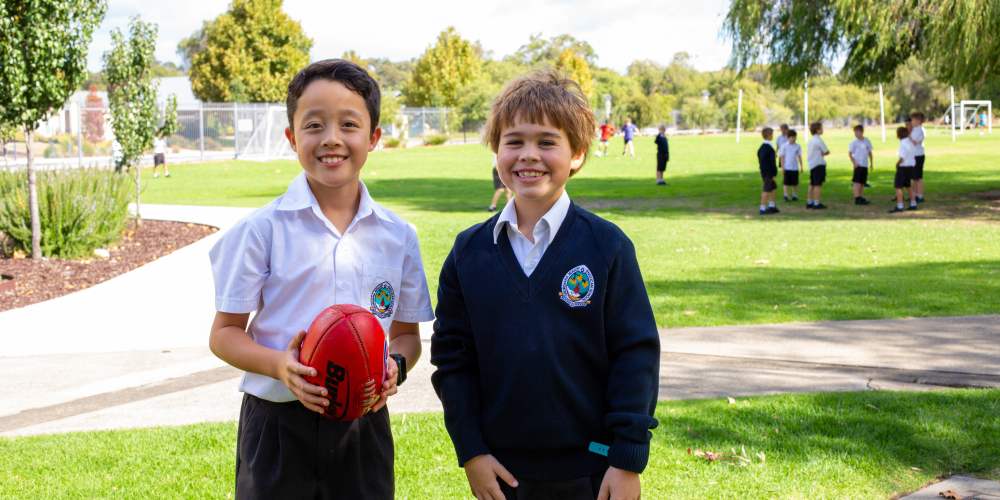 Vision
and Values
Our school is a place in which we can all grow and thrive, realising our full potential as a whole person, emotionally, socially, physically and intellectually.
---
Our Purpose
Providing opportunities now, benefits for life.
---
Our Vision

As a school of the Anglican Schools Commission we provide excellence in education, nurture fulfilment and empower success.
---
Our Values
As a proudly progressive Anglican School, the following values guide all that we do:
Inclusion: We value diversity by fostering safe spaces and genuine opportunities to find meaningful relationships and belonging.
Respect: We are true to ourselves, others and the environment and compassionate in our actions.
Accomplishment: We encourage and cultivate each of us to experience success in our own ways.
Spirituality: We nurture spiritual growth and holistic wellbeing as we embrace kindness, compassion, connection and purpose, through service to others.
---
Our Motto
Our School motto is 'Rejoice in Service'. Georgiana Molloy was a remarkable witness of faith, service and justice. Our students are inspired to take up the challenges before them to make our world a better place through their faith, their sense of justice and their service to others.
---
Anglican Ethos

Our school was established by the Anglican Schools Commission (Inc.) in 2003 and it is one of 14 Anglican schools under the umbrella of the ASC.
Established in 1985, the core purpose of the ASC is to establish and support low-fee Anglican systemic schools which provide a high-quality, inclusive and caring Christian education.
Anglican schools:
nurture spiritual growth
provide a dynamic education while maintaining continuity with the past
value a spirit of inquiry and intellectual endeavour
support the development of the whole person with a balanced education
promote a safe, disciplined, caring learning community
aspire to be inclusive and open, responding to diverse needs and abilities
affirm the dignity and worth of all people
promote social, ethical, civic and environmental responsibility
The ASC has six principal values which we share as a school community.
Faith: Living by Gospel values
Excellence: Pursuing high standards in all things
Justice: Demonstrating fairness, compassion and conviction
Respect: Respecting self, others and our planet
Integrity: Acting with honesty and openness
Diversity: Promoting social inclusion and celebrating difference
Useful links