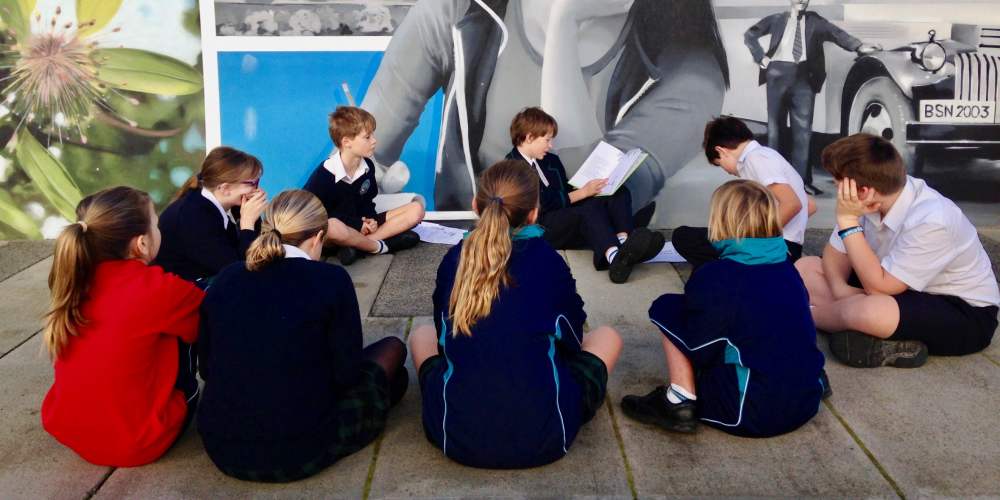 Gifted
& Talented
Our Gifted and Talented philosophy ensures that we build challenge and extension into our existing classes, right across Kindergarten to Year 12, as well as through specialised programs.

We focus on the emotional development of our Gifted and Talented students, as much as their intellectual development. We encourage the interaction of students across sub-schools, so that our younger students may also have the opportunity to develop their critical, creative and collaborative thinking in a supportive environment led by students.

The intention is to ensure that students develop good social connections across the school, while being extended in fun, positive ways. Through this whole school approach, we are committed to the social, emotional and intellectual development of all students, no matter what gifts or talents they possess.
---
A Whole School Approach
We cater for Gifted and Talented students in the following ways:

Differentiated programs run within every classroom, ensuring that all students are able to tackle challenges that further extend their understanding of the content and skills required to succeed through diverse and challenging activities, rather than through providing additional work
In the Secondary School, classes are streamed by aptitude, ensuring that students of similar ability are supported in a compatible environment
Students have the opportunity to participate in unique, highly developed programs, such as Prometheus; which draws selected students outside of the classroom to develop their critical, creative and collaborative thinking
Opportunities for peer mentoring across year levels
A range of co-curricular activities and clubs designed to extend knowledge and skills
The opportunity to participate in a range of local, state, national and international competitions and events
---
Gifted & Talented Programs

Our classes, co-curricular activities, and individualised programs have been structured to cater for our Gifted and Talented students in a considered and supportive manner.
Creative spirits can foster their artistic skills in our Art, Music or Drama programs, which includes participating in the Art Spectacular, Bunbury Eisteddfod, and numerous drama productions.
Athletic souls will revel in our range of co-curricular sports, including swimming, basketball, cricket and both boys and girls AFL. We compete in numerous local and state competitions, as well as holding our own sports carnivals.
Our intellectually-minded students can specialise in Science, Technology, Engineering and Mathematics (STEM), engaging in a variety of project-based learning opportunities such as the Pedal Prix and Cows Create Careers program, as well as competitions such as the Science and Engineering Challenge and Cosmos Learning.
For students orientated towards the Humanities and English there is a huge range of opportunity for students to extend themselves in areas such as writing, debating, public speaking and through competitions such as Tournament of the Minds, Mock Trials and Philosothon.
In Greek mythology Prometheus was the Titan who provided humans with wisdom in the form of fire. The Prometheus program at GMAS is a Gifted and Talented program for students from Year 5-9. The program has two key aims:
to develop each student's critical, creative and collaborative thinking skills and support them to become innovative and resourceful global citizens; and
to improve student wellbeing, so that students can engage confidently and meaningfully in their education and lives beyond.
The backbone of the program is collaborative, critical and creative thinking based in Philosophy and Ethics. Students develop these schools through critical thinking exercises such as Community of Inquiries (COIs). The COI framework is a process of creating a deep and meaningful learning experience through respectful and insightful group discussions. It is through the COI that students develop their ability to respect, listen to and understand a diverse range of views.
Promethians also have the opportunity to engage with students across learning areas and sub-schools, participate in competitions with other educational institutions and interact within the wider local community.

Selection into the Prometheus Program
Student selection for the Prometheus program is conducted annually. Students from Years 5-9 are eligible to be nominated by teaching staff. Following nominations, the students engage in a written critical thinking exercise. Those students who demonstrate an aptitude for critical thinking are invited to attend an interview with the Gifted and Talented Coordinators, who ultimately decide which students will be offered a place in that year's program.
Students who have been assessed as gifted and talented through external testing will also be considered for entry into the Prometheus program. This may include students younger than Year 5, if it is judged that entry into the program is appropriate to their individual social and emotional development.

We will consider accelerating students where appropriate. Careful considerations are made as to the student's social and emotional readiness to be accelerated to a higher year. These considerations are made in consultation with the student's parents/caregivers, Learning Support staff, the Gifted and Talented coordinators, and the School Psychologist.
One-on-one mentoring is provided to Years 11-12 Gifted and Talented students. Recently, this has included assisting with applications to attend both interstate and overseas events, as well as facilitating students in achieving their academic goals. We appreciate that every Gifted and Talented student has unique needs and desires, and mentors ensure they pay close attention to each student's personal requirements.