George Molloy, our GMAS school dog is now 9 months old! He has gradually settled into his new office at the front of the school, but still gets a little excited by all of the visitors. His newly found skills are opening doors and greeting people at front reception with a smile and a bark.
George is still frequently being trained by Asher and is gradually learning what his role will be at GMAS. He walks regularly with Primary classes, spends time with the Counsellor and Psychologist and provides support for students and staff who are anxious and in need of some support. He also spends some days away from GMAS, hanging out with dog friends.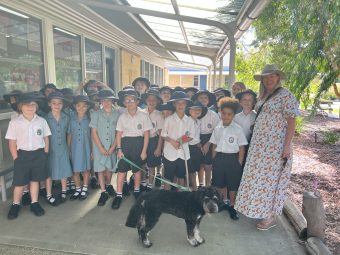 As mentioned previously, George was bred by a GMAS family, the Hobson's, is trained by Asher Lindberg from Geo Bay Dog Training also a GMAS parent, is groomed by Natalie Mcillree from Above n Beyond Pet Care, a parent of a Year 1 student and spends time with the Hemblem family at Oodles Retreat. He lives with Ms Meg Watson, Interim Principal, when he is not working at GMAS.