Welcome to the first entry of George's Journey. If you haven't already seen George on Campus or through our socials, George the Groodle is our School Wellness Dog.
Here at GMAS we have been investigating the addition of Wellbeing Animals into our community for a number of years and this process was completed when a group of Year 6 students John Jeisman, Ethan Eriksson, Ashly Cullam, Isabella Budrovic and Neve Kelly presented a series of proposals to the School Executive. The compelling arguments provided by this group reinforced the decision to introduce a Wellness Dog in our community.
George was bred by a GMAS family, the Hobson's, will be trained by Asher Lindberg from Geo Bay Dog Training also a GMAS parent, and will be groomed by Natalie Mcillree from Above n Beyond Pet Care, a parent of a Pre-primary student. He lives with Ms Meg Watson, Deputy Principal, when he is not working at GMAS.
At nearly 9 weeks old George has already been bringing plenty of smiles to staff, students and parents. He is a ball of contagious happiness (and mischief) and loves nothing better than to help with morning duties in the Junior School Undercover area. He especially likes playing with all the dangling keyrings on the students' backpacks. He has had a great week including helping the Year 10s in Psychology and the Year 7s in Health and taking many naps in between (or during classes).

During this week, George's office, (which actually belongs to Ms Meg Watson, but we won't let George know that), has been visited by many students. They are chatting happily about their dogs and wondering what George will be doing this week. George has been very gentle, tail-wagging and loves to greet the students when they come to the external door as he shows them and teaches them love, compassion, and care.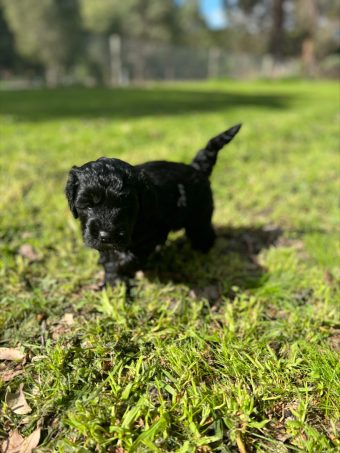 Much recent research highlights how therapy dogs in schools can assist children with their learning, social interactions and even cope with anxiety and other similar issues. Reports from the ABC and Perth Now, sum up the positive benefits provided by therapy dogs. Georgia Askew, GMAS Counsellor, has been introducing George to the cosy counselling room and he's been hanging out in there, sleeping on student's laps, as they chat to Georgia.
In the journal, Frontiers in Veterinary Science, the authors note:
"Therapy dogs in educational settings have gained traction in recent times. Increasingly, dogs have provided therapeutic support in early education settings, primary and secondary schools, as well as university settings to support students' well-being, promote a sense of belonging in school, reduce stress and anxiety, and even facilitate learning. Across the globe, the incorporation of a therapy dog as part of a school's programs and activities such as dog-assisted reading programs has increased exponentially in prevalence."
George's first article coincides with R U OK Day and George is encouraging everyone to ask the question "R U OK?" You don't need to be an expert to have an R U OK? conversation. Listening and giving someone your time might be just what they need to help them through.
George welcome to GMAS - we love you!